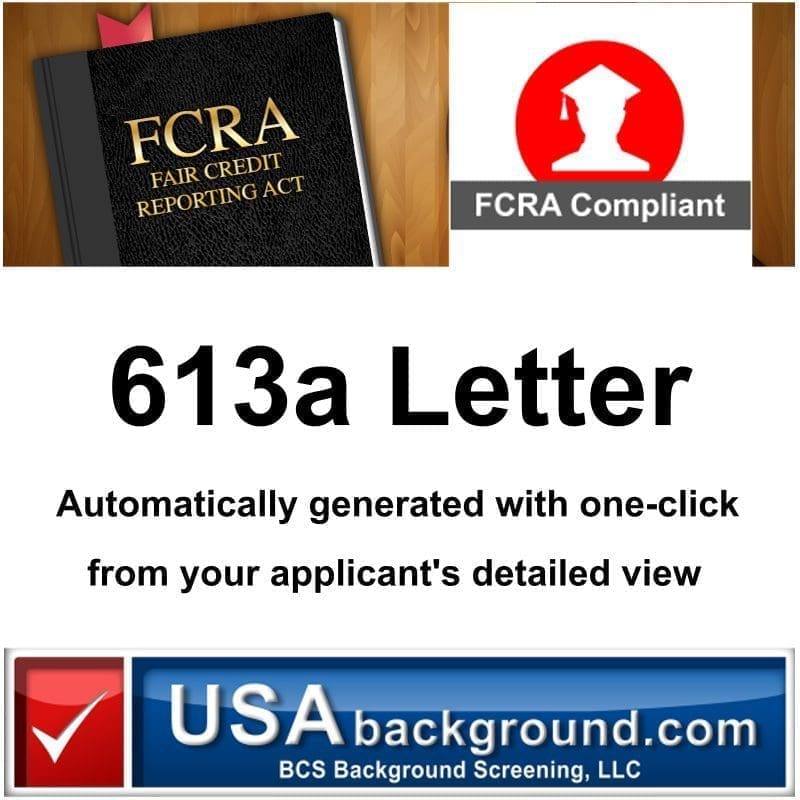 A 613 Letter serves as a notification to a job applicant that derogatory information was found in a criminal database search that may influence their hiring.
While it is not advisable to make an employment declination decision based solely on the results of a nationwide database search as they may not contain updated records, some employers choose to initially send out a 613a letter to the applicant. 
A 613 Letter serves as a notification that derogatory information was found in a criminal database background check that could influence their ability to be hired. Normally it is used to save time and money in verifying a record at the county court. By sending out a 613a letter, it offers the applicant the opportunity to dispute or further explain the criminal database information found. This letter is not considered to be an adverse action letter as it only serves to give advance notice to the applicant that information was found that deems further investigation.
As an abundance of caution and given the fact that the FCRA has been somewhat ambiguous due to the excessive amount of FCRA litigation these days, we highly recommend going by the "strict" method of automatically proceeding with a county court verification.
Defined by the Fair Trade Commission Citation 15 U.S.C. § 1681k, Section 613 which states "Requirements when reports include public record information used for employment purposes, including "strict procedures" to follow to ensure information is complete and up to date"
Sample 613a Letter
CONFIDENTIAL TO BE READ BY ADDRESSEE ONLY
NOTICE TO CONSUMER OF REQUEST OF CONSUMER REPORT AND CONSUMER REPORT PROCESSING FOR EMPLOYMENT PURPOSES
Dear Applicant,
The purpose of this letter is to notify you that BCS Background Screening, LLC, a consumer reporting agency (CRA), is reporting criminal or other public record information that may be adverse about you to:
Company Name
Company Address
Company contact Name, phone and email
The above listed employer has certified that it is using such public record information to determine your eligibility for employment, promotion, reassignment, and/or retention.
This notice is not an indication of our decision regarding your application status. Your background check is still being processed.
If you have any questions regarding your report please contact us at 800-661-0278.
Sincerely,
BCS Background Screening, LLC
Disclaimer: The above letter serves as a starting guidance legal verbiage and in no way does it replace professional legal advice
Due to the ever-changing FCRA and EEOC laws, it is strongly advised to consult with your company's legal counsel about hiring laws prior to sending a 613a letter.