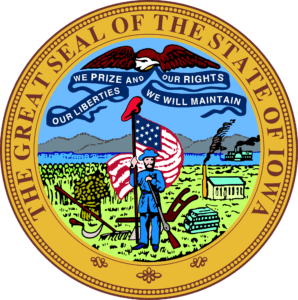 Search for Iowa Criminal History in real-time
Felonies and misdemeanors court cases are updated daily
Turnaround time is 24 hours or less
Price $20.00 + Repository Fee
View other States
Employment Screening Laws in Iowa
Because Iowa has no state law restricting employer use of criminal records, applicants who are wrongly denied a job must rely on federal laws.
The State of Iowa employs the recommended rules and regulations standard policies of the hiring guidelines established by the Fair Credit Report Act (FCRA).
Background check consent must be completed and signed in a separate stand-alone form separate from employment application as per FCRA. Must be clear and conspicuous to their knowledge
Establish an HR policy when conducting employment background checks for each job position. For example, what past criminal offenses are to be considered in relation to the job position
If derogatory records are found:
If doing a nationwide criminal database search, verify that any database records found are updated and accurate at originating source (i.e, County Criminal Court and/or Real-Time State Criminal search
Send FCRA Pre Adverse Action Letter. Wait at least five days to allow the applicant to dispute any discrepancies before taking any further action
If by then, a decision has been made to not to hire the applicant based on the applicant's response and further investigation of records found — a job declination FCRA adverse action letter must be sent
Iowa does not follow statewide Ban-the-Box laws coverage.
Exceptions:
Johnson County (County employment)
The resolution committed the County to remove conviction inquiries from initial employment applications for county jobs, with the exception of positions requiring a full background check because of the nature of the work (e.g., law enforcement or positions working with vulnerable populations). The resolution further committed to requiring that an applicant is selected for an interview before the County asks about conviction history or conducts a required background check. Moreover, the resolution encouraged selecting applicants without consideration of past convictions, when possible, as well as considering individualized circumstances when evaluating an applicant's record.
Linn County (County employment)
Adopted a resolution on "Inclusive Hiring Practices Concerning People with a Prior Criminal Conviction". The resolution removes conviction history inquiries from the county's initial employment application and provides that the county must wait until after selecting an applicant for an interview before asking about his or her conviction record or conducting a background check. The resolution further provides for the individualized consideration of conviction history and urges those making hiring decisions to do so without regard for conviction history whenever possible.
Remember that an employer must always consider EEOC guidance when making a hiring decision. The Equal Employment Opportunity Commission (EEOC) calls for companies to conduct an Individualized Assessment based on the nature of the offense and how it relates to the job position prior to automatically disqualifying an employment applicant based on their past criminal records history.
When determining whether a criminal offense would disqualify a potential employment candidate, employers must give consideration to:
The nature and gravity of the criminal offense
How much time has passed since the offense or sentence
The nature of the job (including where it is performed, how much supervision and interaction with others the employee will have, etc.)
The EEOC has stated that employers ought to give job seekers with a criminal record the opportunity to explain the circumstances and provide mitigating information showing that the employee should not be excluded based on the nature of the offense.
Disclaimer: All resources in this informational article are intended for basic informative purposes and to serve as initial guidance. It is strongly recommended to always check with your legal counsel before proceeding as new laws may emerge from federal and local municipalities after the date of this article.
Iowa Criminal Search Report
Summary
Title: STATE VS JUAN C. RAMONES
Trial Court Case ID
Originating County Created Speedy Trial MicrofilmRef
08450 SMSM332542 DES
MOINES 8/5/1994
Citation Number Disposition Status Disposition Date Reopened Date
GUILTY PLEA/DEFAULT 8/19/1994
Charges, Dispositions, Sentences
Title: STATE VS JUAN C. RAMONES
Case: 08450 SMSM332542  (DES MOINES)
Citation Number:
Defendant: RAMONES, JUAN C. – DOB: 03/15/1969
Count 01 Charge
Charge: 714.2(5) Description: THEFT 5TH DEGREE – 1978 (SMMS)
Offense Date: 4/30/1994 Arrest Date: Against Type: DPS
Number:
Adjudication Charge: 714.2(5) Description: THEFT 5TH DEGREE – 1978(SMMS)
Adjudication: DNU-GUILTY Adj.Date: 8/19/1994
Adj.Judge: BROWN, THOMAS R
Comments:
Sentence
Charge: 714.2(5) Description: THEFT 5TH DEGREE-1978 (SMMS)
Sentence Date: 8/19/1994 Sentence: FINE
Appeal: Sen.Judge: BROWN,THOMASR
Facility Type:
Attorney: N
Restitution: Y Drug: N Extradition: N Lic.Revoked: N DDS: N Batterer:
Fine Amount: Duration:
Comment: $50-COSTS-RESTITUTION TO WALLYS PAWN SHOP
Filings
Title: STATE VS JUAN C. RAMONES
Case: 08450 SMSM332542 (DES MOINES)
Citation Number:
Event Filed By Filed Create Date Last Updated Action Date
NOTICE OF FULL COMMITMENT/CO ATTY COLLECTIONS DES MOINES COUNTY ATTORNEYS OF
FICE 9/30/2011 10/10/2011 10/10/2011
CCU RETURNED 10/26/2000 10/26/2000
10/26/2000 CCU SENT 1/7/1999 1/7/1999 1/7/1999
CCU SENT 1/7/1999 1/7/1999 1/7/1999
COMPUTER GENERATED NOTICE 1/4/1995 1/4/1995 1/4/1995
Comments:DELINQUENCY NOTICE MISDEMEANOR #1
DNU – ORDER OF JUDGEMENT
BROWN THOMAS R 8/19/1994 8/19/1994 8/19/1994
CRIMINAL COMPLAINT 8/5/1994
8/5/1994 8/5/1994
Comments: SUMMONS TO APPR 8/19/94 AT 9AM
List of Iowa counties included in criminal search
Adair
Adams
Allamakee
Appanoose
Audubon
Benton
Black Hawk
Boone
Bremer
Buchanan
Buena Vista
Butler
Calhoun
Carroll
Cass
Cedar
Cerro Gordo
Cherokee
Chickasaw
Clarke
Clay
Clayton
Clinton
Crawford
Dallas
Davis
Decatur
Delaware
Des Moines
Dickinson
Dubuque
Emmet
Fayette
Floyd
Franklin
Fremont
Greene
Grundy
Guthrie
Hamilton
Hancock
Hardin
Harrison
Henry
Howard
Humboldt
Ida
Iowa
Jackson
Jasper
Jefferson
Johnson
Jones
Keokuk
Kossuth
Lee
Linn
Louisa
Lucas
Lyon
Madison
Mahaska
Marion
Marshall
Mills
Mitchell
Monona
Monroe
Montgomery
Muscatine
O'Brien
Osceola
Page
Palo Alto
Plymouth
Pocahontas
Polk
Pottawattamie
Poweshiek
Ringgold
Sac
Scott
Shelby
Sioux
Story
Tama
Taylor
Union
Van Buren
Wapello
Warren
Washington
Wayne
Webster
Winnebago
Winneshiek
Woodbury
Worth
Wright
The Iowa Online Warrants and Articles (IOWA) Criminal Justice Information Network provides access to a wide variety of information to approximately 170 police departments, sheriff's offices, state, and federal criminal justice agencies throughout Iowa. In addition, the IOWA system serves as a link to the national law enforcement network National Crime Information Center (NCIC) as well as to other agencies nationwide and worldwide. Over 76 million messages were processed through the IOWA System in the fiscal year 2014.
These messages include inquiries to databases for wanted persons; missing persons; protective orders, sex offenders, stolen property, including vehicles and guns; motor vehicle registration; driver license; criminal history records, and administrative messages.