How do I search for Federal criminal records at US District Courts (USDC)?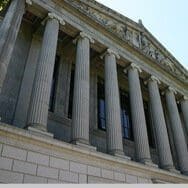 A federal criminal search is always strongly recommended. Often, and based on our experience – we have found potential employees that have no records at the state or county level criminal searches, yet past criminal activity has been found at the federal US District Court level. For obvious reasons, no local crimes were committed as they were busy serving a sentence at a federal correctional institute.
Federal criminal records are filed at United States District Courts (USDC). Larger populated states may have 4 federal jurisdictions while smaller states may have just one federal jurisdiction. You may search files physically at the court or electronically through the federal government's PACER system.
Tip: Most government contracts require a federal criminal search included in the contractor's background check. Additionally, you may want to consider ordering a federal search for employees with clearance access to company financial information and/or proprietary trade secrets.
Federal criminal records search is an art, not a science
Unlike nationwide criminal database searches, the vast majority of federal criminal cases do not provide a DOB or Social Security number. Thus, it is a very time-consuming search when searching for a common first and last name combination. While we make every effort to seek federal cases at a national level, we must limit searches for a common name combination to the jurisdictional level federal district court.
For instance, if searching for John Smith, we must download every official court document on the case docket (California Central District may contain over 100 "John Smith" just at that location!) and manually review hoping to find a date of birth, birth year, or an address that we can relate to the search subject. This being a very time-consuming and tedious process, not to mention the cost of each document downloaded.
Turnaround time is normally within 24 hours
Common name (i.e, John Smith, Carlos Perez, etc.) combinations may take longer. Please provide a middle name.
Price $17 per Federal Jurisdiction
As of today, in about 98% of federal cases — all identifiers (DOB, SSN, Address) in the PACER Federal USDC database have been redacted (wiped out, not just truncated). Read more…
Did you know?
Federal criminal offenses are violations of federal law as opposed to state or local municipal laws and are not found at local county criminal courts.
Record of these crimes can only be found in the US District Federal Courts (USDC). Crimes listed below fall into the federal jurisdiction:
Drug Trafficking
Computer Fraud & Hacking
Racketeer Influenced and Corrupt Organizations (RICO Act)
Fraud by Wire
Credit Card Fraud
Internet related
Kidnapping
Mail Fraud
Espionage
Money Laundering
Health Care & Medicare Fraud
Tax Evasion
Stocks and Securities Related Crimes
Bank Fraud and Embezzlement
Extortion
Counterfeiting
Bank Robbery
Racketeering
Federal Criminal Search – Sample Report
Average completion time is 24-48 hours.
U.S. District Court
Southern District of Georgia (Savannah)
CRIMINAL DOCKET FOR CASE #: 10:12-cr-01349-ITF-FLS-1
Case title: USA v. Jones
Date Filed: 10/12/2012
Date Terminated: 10/26/2014
Assigned to: Judge Ian T. Fleming
Referred to: Magistrate Judge F. Lee Smith
Defendant (1)
Ebenezer Jones DOB: 04/20/1974
TERMINATED: 10/26/2014
Represented by Jerry Brown
Brown & Shapiro, PC
150 Freedom Tower Suite PH3 Savannah, GA 31401
912-555-1210 Fax: 912-555-1211
LEAD ATTORNEY
ATTORNEY
TO BE NOTICED
Designation: CJA Appointment
Pending Counts: None
Disposition: Highest Offense Level (Opening): None
Terminated Counts: None
Disposition: Highest Offense Level (Terminated): None Disposition:
Complaints
21:846, 841(a)(1) & (b)(1)(D) Conspiracy. Possessed with intent to distribute and distribute marijuana
Final Disposition: Defendant is hereby committed to the custody of the USBOP for a term of 9 months as to each count,
to be served concurrently with each other.
Plaintiff
USA represented by Bill McCarron
U.S. Attorney's Office – Savannah
P.O. Box 35123
Savannah, GA 31412
LEAD ATTORNEY
ATTORNEY TO BE NOTICED
Date Filed
# Docket Text
8/6/2012 1 TRANSFER OF JURISDICTION for Supervision of Releasee Ebenezer Jones Received certified copies of indictment, judgment and docket sheet from Middle District of North Carolina (jgb) (Entered: 08/14/2012)
8/14/2012 TERMINATE CASE (jgb) (Entered: 08/14/2012)
5/20/2013 2 MOTION to Modify Conditions of Release by USA as to Ebenezer Jones Responses due by
6/8/2013 (jgb) (Entered: 05/21/2013)
5/20/2013 3 ORDER granting 2 Motion to Modify Conditions of Release as to Ebenezer Jones. (1). Signed by Chief Judge Ian T. Fleming on 5/20/09. (jgb) (Entered: 05/21/2013)
5/26/2014 4 MOTION to Modify Conditions or Term of Supervision as to Ebenezer Jones (fbh) (Entered: 05/26/2014)
5/26/2014 5 ORDER granting 4 Motion to Modify Conditions or Term of Supervision as to Ebenezer Jones. (1). Signed by Judge Ian T. Fleming on 5/25/2014 (fbh) (Entered: 05/26/2014)
9/6/2014 7 DEFENDANT INFORMATION SHEET as to Ebenezer Jones (mah) (Entered: 09/06/2014)
9/15/2014 Attorney update in case as to Ebenezer Jones Attorney Jerry Brown for Ebenezer Jones added. (sff) (Entered: 09/15/2014)
9/15/2014 9 NOTICE OF HEARING as to Ebenezer Jones Initial Appearance on Revocation Proceedings set for 10/4/2014 09:00 AM in Savannah – Mag Jud Courtroom before Magistrate Judge F. Lee Smith. Preliminary
Revocation Hearing set for 10/4/2014 09:00 AM in Savannah – Mag Jud Courtroom before Magistrate Judge F. Lee Smith. (sff) (Entered: 09/15/2014)
9/21/2014 10 NOTICE OF ATTORNEY APPEARANCE: Jerry Brown appearing for Ebenezer Jones
Probation revocation (Brown, Jerry) (Entered: 09/21/2014)
9/28/2014 11 CJA 20 as to Ebenezer Jones: Appointment of Attorney Jerry Brown. Signed by Magistrate
Judge F. Lee Smith on 9/15/2014. (mah) Modified on 10/6/2014 (mah). (Entered: 09/28/2014)
10/3/2014 12 WAIVER of Preliminary Hearing by Ebenezer Jones (Brown, Jerry) (Entered: 10/03/2014)
10/3/2014 13 *****NOTICE OF HEARING CANCELLATION as to Ebenezer Jones Initial Appearance on Revocation Proceedings set for 10/4/2014 09:00 AM in Savannah – Mag Jud Courtroom before Magistrate Judge F. Lee Smith. Preliminary Revocation Hearing set for 10/4/2014 09:00 AM in Savannah – Mag Jud Courtroom before Magistrate Judge F. Lee Smith. HEARINGS CANCELLED – WAIVER SIGNED(sff) (Entered: 10/03/2014)
10/17/2014 14 NOTICE OF HEARING as to Ebenezer Jones Final Hearing re Revocation of Supervised Release
set for 10/24/2014 @ 10:00 AM in Savannah – 3rd Floor before Judge Ian T. Fleming Jr.. (IAT) (Entered: 10/17/2014)
10/24/2014 15 Minute Entry for proceedings held before Judge Ian T. Fleming: Final Hearing re Revocation of Supervised Release as to Ebenezer Jones held on 10/24/2014 (Court Reporter Maria Gouzieta.) (jgb) (Entered: 10/24/2014)
10/26/2014 16 Judgment on Revocation as to Ebenezer Jones re 6 MOTION on Revocation of Supervised Release on
Complaint filed by USA. Defendant is hereby committed to the custody of the USBOP for a term of 9 months as to each count, to be served concurrently with each other. Signed by Judge Ian T. Fleming on 10/26/2014. (mah) (Entered:
10/26/2014)
12/7/2014 17 CJA 20 as to Ebenezer Jones: Authorization to Pay Jerry Brown. Amount: $ 987.12,. Signed by Judge Ian T. Fleming on 12/7/2014. (mah) (Entered: 12/07/2014)