What can I find in a USDC federal civil search?
Obtain federal civil cases information from all United States District Courts (USDC) jurisdictions. Search for civil lawsuits cases where federal law is applied. When ordering, you must specify federal district. Report will contain full docket listing all dates and events pertaining to federal civil case.
View sample report
What can I use it for?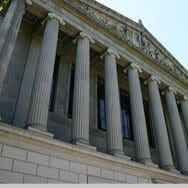 Uncover whether your potential employee has initiated legal proceedings against a former employer for employment discrimination, employment fraud or labor related lawsuits. This federal civil search is very helpful for screening business partners that may have a past history of civil lawsuits.
Types of civil cases found in US Federal District Courts
CONTRACT
110 Insurance
120 Marine
130 Miller Act
140 Negotiable Instrument
150 Recovery of Overpayment & Enforcement of Judgment
151 Medicare Act
152 Recovery of Defaulted Student Loans (Excl. Veterans)
153 Recovery of Overpayment of Veteran's Benefits
160 Stockholders' Suits
190 Other Contract
195 Contract Product Liability
196 Franchise
REAL PROPERTY
210 Land Condemnation
220 Foreclosure
230 Rent Lease & Ejectment
240 Torts to Land
245 Tort Product Liability
290 All Other Real Property
TORTS
Personal Injury
310 Airplane
315 Airplane Product Liability
320 Assault, Libel, & Slander
330 Federal Employers' Liability
340 Marine
345 Marine Product Liability
350 Motor Vehicle
355 Motor Vehicle Product Liability
360 Other Personal Injury
Malpractice
365 Personal Injury- Product Liability
367 Personal Injury – Health Care/Pharmaceutical Personal Injury/Product Liability
368 Asbestos Personal Injury Product Liability
375 False Claims Act
Personal Property
370 Other Fraud
371 Truth in Lending
380 Other Personal Property Damage
385 Property Damage Product Liability
BANKRUPTCY
422 Appeal 28 USC 158
423 Withdrawal 28 USC 157
CIVIL RIGHTS
440 Other Civil Rights
441 Voting
442 Employment
443 Housing/Accommodations
444 Welfare1
445 Amer w/Disabilities-Employment
446 Amer w/Disabilities – Other
448 Education
IMMIGRATION
462 Naturalization Application
463 Habeas Corpus – Alien Detainee
465 Other Immigration Actions
PRISONER PETITIONS
510 Motions to Vacate Sentence
Habeas Corpus
530 General
535 Death Penalty
540 Mandamus & Other
550 Civil Rights
555 Prison Condition
Civil Detainee
560 Conditions of Confinement
FORFEITURE/PENALTY
610 Agriculture1
620 Other Food & Drug1
625 Drug Related Seizure of Property 21 USC 881
630 Liquor Laws1
640 RR & Truck1
650 Airline Regulations1
660 Occupational Safety/Health1
690 Other
710 Fair Labor Standards Act
720 Labor/Management Relations
730 Labor/Management Reporting & Disclosure Act1
740 Railway Labor Act
751 Family and Medical Leave Act
790 Other Labor Litigation
791 Employee Retirement Income Security Act
PROPERTY RIGHTS
820 Copyrights
830 Patent
840 Trademark
SOCIAL SECURITY
861 HIA (1395ff)
862 Black Lung (923)
863 DIWC/DIWW (405(g))
864 SSID Title XVI
865 RSI (405(g))
FEDERAL TAX SUITS
870 Taxes (U.S. Plaintiff or Defendant)
871 IRS-Third Party 26 USC 7609
OTHER STATUTES
400 State Reapportionment
410 Antitrust
430 Banks and Banking
450 Commerce
460 Deportation
470 Racketeer Influenced and Corrupt Organizations
480 Consumer Credit
490 Cable/Sat TV
810 Selective Service1
850 Securities/Commodities/Exchange
875 Customer Challenge 12 USC 34101
890 Other Statutory Actions
891 Agricultural Acts
892 Economic Stabilization Act1
893 Environmental Matters
894 Energy Allocation Act1
895 Freedom of Information Act