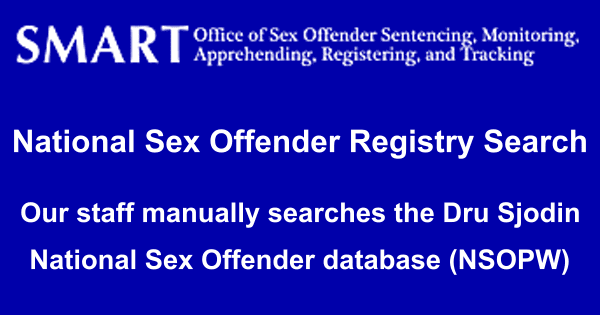 Based on Dru Sjodin National Sex Offender Database. NSOPW is the only U.S. government source that links public state, territorial, and tribal sex offender registries into one national search site.
Turnaround time: Same-day. In most cases near-instant
Price: $4
The 3 Tiers of the Sex Offenders Registry
Tier I: Lowest-level Conviction
A Tier I offender is someone who was convicted and served less than one year in prison. Examples of Tier I sex offenses would be receipt or possession of child pornography, or sexual assault against an adult that involved sexual contact, but not a completed or attempted sexual act.
Tier II: Mid-level Conviction
Second tier offenses are generally more aggressive sexual contact crimes that carry longer than a one-year prison term. Tier I offenders who commit a second sexual offense are generally placed into the Tier II category. Any offense against a victim under the age of 18 automatically falls into this tier. Such offenses that would be categorized as Tier II include:
Engaging or attempting to engage minors in prostitution (including conspiracies and solicitations)
Having any kind of physical sexual contact with a minor that involves intimate parts of the body (either directly or through clothing) or attempts, solicitations or conspiracies to have physical sexual contact
Using a minor in a sexual performance
The production or distribution of child pornography
Tier III: Most Severe Conviction
Tier III categorizes those who are the most dangerous or repetitive sex offenders. Anyone convicted as a Tier II offender who reoffends is generally categorized in this third tier. These convictions are also punishable by one (1) or more years in prison.
Offenses considered to be Tier III include:
More severe or aggravated sexual abuse or assault (as compared to Tier II), or the conspiracy to commit such an offense
Engaging in a sexual act by force or threat
Engaging in a sexual act with another who is rendered unconscious, is involuntarily drugged or who is otherwise incapable of making a sound decision about the act or is unable to decline participation
Engaging in a sexual act with a child under the age of 12
For children under the age of 16, there are a variety of sexual acts defined in statute (see 18 U.S.C. 2246(2))
Offenses noted in the Tier II section against whom the victim is 13 years of age or younger
Kidnapping of a minor (there are exceptions related to parents and guardians)
Each jurisdiction (be it state or municipality) has some flexibility in how offenders are listed on their registries. Typically, older juvenile offenders who commit more serious sexual crimes have stricter SORNA reporting requirements than do younger juveniles with less serious convictions. For more specific information about juvenile reporting requirements, see Section 111(8) of the statue.
Limitations to the DOJ Sex Offender Search
This search does not include results from the State of Nevada Sex Offender Registry as their website results cannot be used for employment screening purposes and/or distributed commercially.
This search has specific conditions from State of Oregon. Information is only provided for sex offenders who have been designated as predatory, as provided in ORS 181.585, who have been determined to present the highest risk of re-offending and to require the widest range of notification or are found to be a sexually violent offender under ORS 144.635
Sample Sex Offender Report
Offender Details
Anyone who uses this information to injure, harass or commit a criminal act against any person may be subject to criminal prosecution.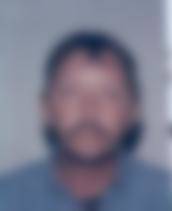 Domiciled
Offender Id: 8952465871nn
Last Name: DOE First Name: JOHN Middle Name: Sample
DOB: Nov. 14, 1957 Sex: Male
Race: White Ethnicity: Peru Height: 5′ 09″ Weight: 225lbs
Hair: Black Eyes: Brown Corr. Lens: YES Photo Date Feb. 14, 2018
Risk Level: 3 Designation: Lifetime Registration-Subject to Petition for Relief
Current Addresses
Type: RES (Primary)
County: Nassau
Address: 1250 No Main Street
Brooklyn, New York 11553
Type: RES (Secondary)
County: Weschester
Address: 54 Lincoln Palms Drv
Weschester, New York 11575
Law Enforcement Agency Having Jurisdiction: Nassau County PD Missing Person and Sex Offender Registry Unit
Current Conviction
Title: PL Section 130.35 Subsection ClassB CategoryF Counts 1
Description: Rape-1st Degree
Date of Crime: Mar 25, 1987
Date Convicted: Sep 14, 1987
Victim Sex/Age: Female, 16
Arresting Agency: Nassau County PD Missing Person and Sex Offender Registry Unit
Offense Descriptions: Sexual Intercourse
Relationship to Victim: Neighbor
Weapon Used: None Reported
Force Used: None Reported
Computer Used: None Reported
Pornography Involved: None Reported
Sentence Term: 150 Month(s) to 25 Year(s) State Prison
Previous Conviction(s) Requiring Registration: None Reported
Supervising Agency Information: None Reported
Special Conditions of Supervision: None Reported
Maximum Expiration Date/Post Release Supervision Date of Sentence: None Reported
Scars, Marks & Tattoos: Anchor Tattoo-Arm, right
Additional Names/Aliases: None Reported
Current Vehicles:
Plate Make Model Year Color
OH ABC104215 Ford F150 1996 White
YYZ825555 International 2000 Blue (Light)